Jumping News
We are back to active jumping!
June 6th, 2020
Due to the Covid 19 pandemic we were closed for over 2 months. With the reopening, we encourage those who are coming out to jump to still maintain social distancing when ever possible. Please stay home if you are sick or have a fever. We will be wearing face covering in the aircraft during the ride to altitude. Due to the nature of skydiving and tandem jumping, periods of close personal contact are unavoidable. Currently we mainly have tandem sign ups on Saturdays, if you need a Sunday date please email us for instructor availabilty.
Aug. 15, 2019
USPA SAFETY DAY March 14th, 2020
Join us for USPA Safety Day All skydivers are welcome! Start time 9:30am at the Dropzone.
April 26, 2017
Supervan Weekend Postponed
Here at the K-State Parachute Club, we have a rich history (3 in a row now) of renting Caravans and having terrible weather.
Due to the weather forecast, we are forced to postpone Supervan Weekend.  Low cloud bases, sketchy gust spreads, and a high likelyhood of rain will keep us on the ground.
At this time, we are looking into aircraft availability on alternate dates and will let you know as soon as we get something set in stone.
Those of you scheduled for a tandem jump should have recieved an email already today. Once the new date is set, we'll work with you to schedule your jump for a new time.
If you have not yet registered for a tandem jump and are interested, please fill out this interest form so that we can keep you in the loop along with everyone who has already signed up. (Pass that link on to anyone interested who isn't on this email list.)
Looking forward to getting you in the air soon.
Blue Skies!
Kevin
April 21, 2017
FJC, Maybe Open Saturday?, Open Sunday
We have the first jump course morning portion starting at 9am tomorrow.  Right now, the winds are looking a bit on the high side, so we may not open tomorrow.  If we do, it would be more in the afternoon. Eric would be flying.  Stay tuned Saturday morning for possible jumping Saturday afternoon.
Sunday, we will be open!  Winds will be light, the sky will be clear.  First jump students (3 of them) will make jumps.  KSNT will have two memebers of their news team out to make tandem jumps.  Some of you need your first hop and pop so that you can jump the Supervan.  Plans are to open by 9am, but the DZ will likely be open earlier.  We'll have a packing class, and we might even get someone licensed!
"There is fun to be had!"
Kevin
April 9, 2017
Supervan Weekend
Join the K-State Parachute Club for our Spring Supervan Weekend.  April 28-30, we are bringing in the nicest skydiving aircraft in the entire Midwest:  the 900 horsepower Cessna 208 Caravan from Glidersports.  Climbing like a homesick angel, the Supervan can fly 14 skydivers to 14,000ft in just 9 minutes.
Besides the several hundred skydives that experienced jumpers will make, we are offering YOU the opportunity to make a tandem skydive from this amazing aircraft.
Tandem skydives are $210 with a $50 deposit due at signup.  For many, a tandem skydive is a once in a lifetime experience.  Subject to videographer availability, we will be offering video and photo packages so that you can remember and share your skydiving experience with your friends and family.

To jump, you must be at least 18 years of age and under our 220 pound weight limit.
Email us at info@skydivekstate.com with any questions.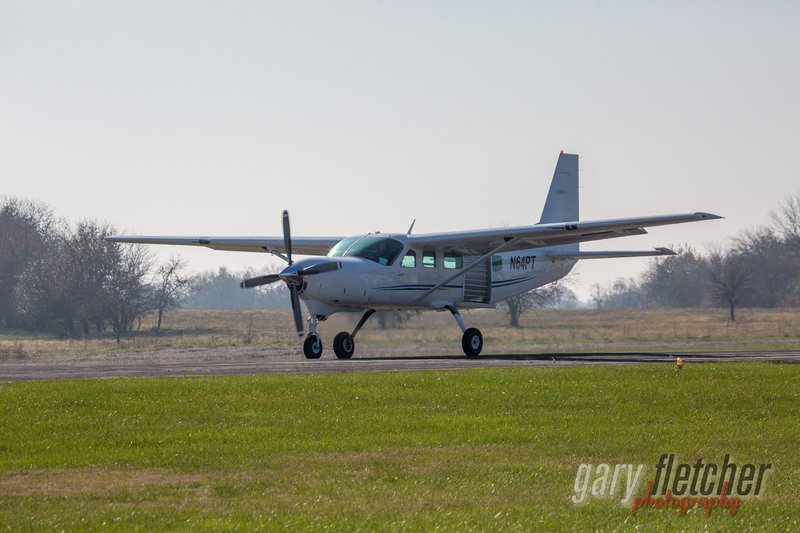 April 7, 2017
Open Saturday at 8am
Open Saturday at 8am, wheels up by 9.
April 2, 2017
Forecast Changed, Closed Today
The forecast got worse.  We're closed today.
April 1, 2017
Open Sunday Afternoon
Clouds are supposed to lift mid-afternoon.  We are thinking jumping will be possible by 4pm, but doors will be open by 2pm.  If anyone needs help deciding, there will be food.
March 31, 2017
Closed Saturday, Stay Tuned for Sunday
Clouds are supposed to be below 2,000 ft all day tomorrow.  Sunday afternoon may work for at least hop and pops.  We'll look at Sunday's forecast tomorrow and make the call by evening.
March 25, 2017
Open Sunday at 11:30
Doors open around 11:30am, pilot arrives at noon.  We've got 2 tandems scheduled for tomorrow, and the forecast looks jumpable at noon or shortly thereafter.  The winds should be acceptable for static line students, so come on out!
Show up a couple hours earlier if you'd like to see how a reserve is packed.
March 24, 2017
Closed Saturday, Open Sunday
Due to the forecasted low clouds, high winds, and isolated thunderstorms, we'll be closed Saturday.  We will be open Sunday unless the forecast changes significantly between now and then.
We have two tandems scheduled for Sunday.  First jumpers from the most recent course should try to come out to make first jumps.  Even if a low ceiling keeps us from full altitude, static lines still can go up.