Get Licensed
The UPSA A-License is nationally and internationally recognized as a mark of skydiving proficiency, and you can earn one here with Skydive K-State!  Skydivers are considered "students" until licensed, not to be confused with college students.  While we are an officially registered student organization of Kansas State University, we are open to everyone.
Static Line Method
With the static line method, you start as a solo skydiver from your very first jump!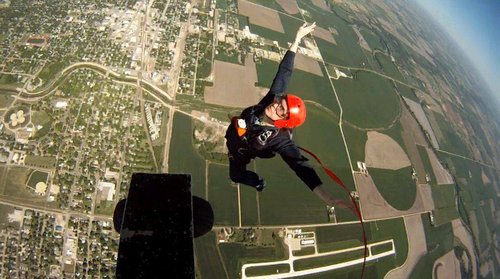 How does it work?
A piece of nylon webbing is attached to the floor of the airplane on one end.  The other end is hooked up to your parachute container.  At an altitude of approximately 3,500ft, you climb out of the airplane and hang from the wing strut.  It's a bit like hanging from a pull up bar except the wind helps hold you up.  As you let go and fall away from the airplane, the static line opens your container and deploys your parachute.  From your very first skydive, you are going solo and landing your own parachute!

After getting cleared for freefall jumps, you will work one-on-one with your instructor to complete the USPA A-License requirements.

Training Progression
The first step in the static line progression is to take the first jump course.  This 6-7 hours of training is split between a Friday evening (6-10pm) and Saturday morning (8-11am).  You then make your first jump Saturday afternoon.  All of our instructors are certified by the USPA, and all training is conducted in accordance with USPA safety requirements and recommendations.
Jump 2 is another static line jump.  For jumps 3-5, you are still on a static line, but we give you a dummy handle in your BOC (bottom of container pouch) to simulate pulling for yourself right out the door.  Jump 6 is the real deal; you are a now a skydiver.

As you progress through freefall training, you will work on several skills like moving forward and backward, recovering quickly from instability, taking docks on other jumpers, and flying your parachute landing pattern.  In addition to mastering a number of freefall skills, a minimum of 25 jumps is required to earn an A-License.
See the Training Progression page for more details.