First Time Jumpers
If this will be your first time skydiving, you'll be able to choose from two different methods at Skydive Kansas State. Each method we offer is sanctioned and approved by the USPA to ensure the highest level of safety. Whether you choose to go tandem or solo, you can bet it will be an experience you'll never forget!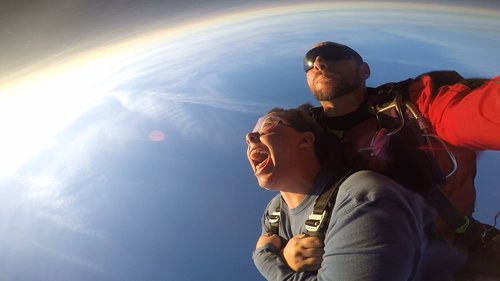 Tandem Skydiving - Jump with an Instructor
Tandem skydiving is the easiest way to make your first jump. After about 20 minutes of training, you will hop in our Cessna 182 and climb to nearly 2 miles in the sky. Securely attached to your instructor, you will jump together and reach speeds of 120mph. We will open the parachute at about 5000' and (if you like) you can help steer the parachute during your 5 minute ride down. We offer a few different video packages if you want to capture your experience and share with your friends.
Key points:
Securely attached to an experienced instructor with hundreds, if not thousands of jumps
No stress over deploying and landing your own parachute - Your instructor has your back
Freefall from 10,000ft and reach speeds of 120mph
Photo and Video packages available!
Perfect for you or as a gift!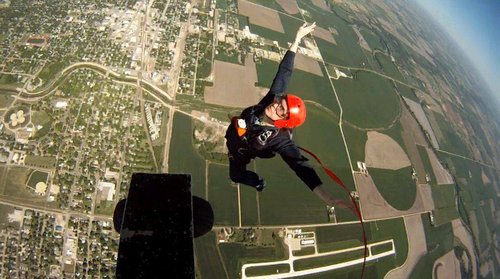 Static Line - Solo First Jump Course
Whether you want to make one jump or thousands, our solo first jump course is the way to experience the sky on our own terms - solo. If you want to earn your USPA skydiving license, this is the first step. You will attend a 6 hour first jump course, split between Friday evening and Saturday morning. Around noon Saturday, we take you up to 3,500ft and you climb out by yourself. Within 5 seconds of letting go of the airplane, you will by flying under your own parachute.
Key points:
Jump and land your own parachute.
The beginning of your training progression towards a USPA skydiving license.
Static line deploys your parachute as you exit the plane at 3,500ft
Progress to solo freefall in as few as 6 jumps. One-on-one freefall coaching after that.
One of the least expensive skydiving license programs in the entire Mid-West. (About $1400 to earn your USPA A-License)
State of the art skydiving equipment. Safety is our #1 priority.